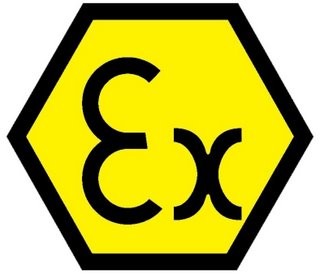 Have any questions? Chat Live with our Support!
Welcome to ATEXshop, a web shop dedicated to ATEX certified products. With one of the largest webshops in the world we are proud to say that we have more then 300 ATEX Products in our store and are still growing! We are continually working on our store, keeping you and your company updated for the best ATEX certified products.
Not only do we have worldwide delivery, we can also give you advice on what product is perfect for the problem you are having. Because we understand how hard it can be to find the right product or solution. Please be free to e-mail or chat with us through our Live Chat Module (see the right bar). With this you can get in contact with some of our employees and get answers to your questions right away!
Here is a short list with few of the many ATEX certified products we can offer you:
- ATEX CCTV Camera's

- ATEX Computers
- ATEX Flashlights
- ATEX Mobile Phones
- ATEX Mobile Radios
- ATEX PDA's
- ATEX Vaccuum Cleaners

•Atexshop


Is a brand name from the Company Comm-Co. Comm-co is since 1992 in the market and through years of experience and knowledge we are well-known as a specialist in this field. Our knowledge we have to thank to our big clients and their requests for special projects. Our company is based in Hulst in Zeeland (Zeeuws-Vlaanderen, near the border with Belgium about 20 km from Antwerp).
Comm-co is a versatile player worldwide in the field of ATEX, ruggedized and customized products. To visit our home website please click here.
For a wide range in Ruggedized products please click here.
Our slogan is. "We sell you what you need not what we have"
We will always try to find the perfect solution for you.
•Unique in our branch
Large Atex portfolio of products in the Benelux
Always new products and updating older products.

• Atexshop a leading supplier of components and complete systems for hazardous areas.
With the expert advice in our supply program and the maintenance and reparation of communication products we are unique in our branch. We improve the range of communication by offering a complicated assortment of communication products like:
ATEX, EX, Intrinsically safe & Intrinsically free products like: Ex-Phones, Ex-PDA, Ex-Camera, Intrinsically Safe Ex-Cam 02, Intrinsically Safe Ex-Camera 02 etc...)
• ATEX certificication
All products which have the ATEX logo are certificated ATEX products

• Professional advising and services
You can always come to us for advice and several services: for example reparations and maintenance of electronic products and service .



• EC directives
The harmonized EC directives and standards, particularly in the field of explosion protection, increasingly shape the
developments in the individual EU countries.

The objective of the new European directives 1999/92/EC and 94/9/EC is to create a standardized safety level throughout Europe.





• Customers
We are a supplier of components and systems for hazardous areas with potential gas- and or dust explosions, mainly for the oil and gas industry
and petrochemical industry.

Within the scope of the implementation of these guidelines, operators of Ex plants must accept more personal responsibility for the safety of their
employees and systems. The explosion risk must be determined and evaluated internally. Then, a categorization with respect to Ex sectors or zones is carried out.

• Cooperate with a strong partner:
The explosion protection experts benefit from our year-long experience in the fields of process plants, safety components, devices and turn-key Ex solutions.
We would be pleased to support you with our know-how on standards and directives, technologies and processes regarding the implementation of
requirements stipulated in EU directives in Ex areas.

• Creativity and software development:

Atexshop Comm-Co can develop software for products like Atex PDA, operating and observing systems designed to user specifications and set up
control systems of different customer needs.